Blog
Details

Written by

Super User
Trials of the Blood Dragon
Discover an epic single player experience with the unique combination of competitive, precise, physics-based Trials gameplay - and rather less precise gun toting, balls swinging, neon-drenched Blood Dragon action. Available now!
Roxanne and Slayter, the offspring of the legendary Rex Power Colt. They're as tough as their father, as smart as their mother and the best there ever was at being the best.
Twelve years on from Vietnam War 2, they are going to Vietnam War 4 to save the day, save freedom, and save the world. Journey through a colorful story with warzones in Vietnam, settling scores in Miami, confronting TV heroes in Tokyo and the odd detour into Space. Hell, you're gonna go to Hell and back.
Details

Written by

ShiftySamurai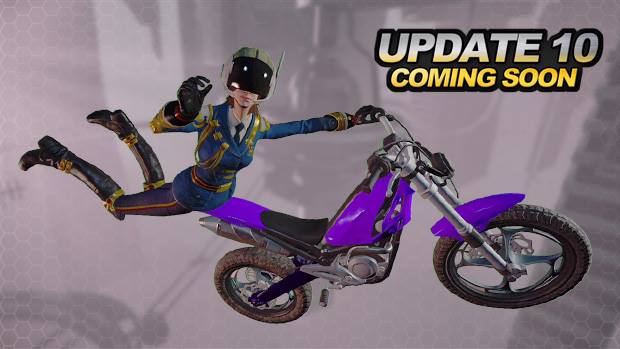 Hello Riders, The Awesome Level MAX DLC is right around the corner but we don't just have new DLC coming. On the same day this awesome new DLC begins to hit platform stores we'll also be releasing a new feature update for all players. New features can only mean one thing, it's time to bring back the Trials Fusion Dev Updates! We've got a few things to go over so let's cut the chatter and dive in.

First we created a new way that players can get more information on items that they care about in the world of Trials Fusion, directly in game. We like to call it the Community Dashboard. The Dashboard will include items such as Community Tutorial videos (Hi, Professor!), Stream times, Hints about Challenges, Updates on Uplay Recommended tracks and Uplay Rewards plus a whole lot more. Pretty much anything that we could think of to expand upon your game experience will be available right there in game. Plus, with regular updates to the dashboard there will always be something new to check out when you boot up Fusion.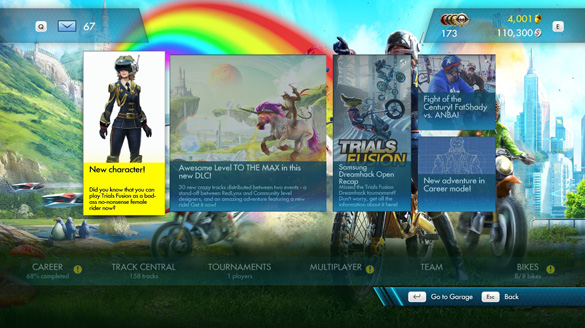 There have been quite a few requests for more customization items. Sometimes it feels like you are meeting your Trials clone (ha?) in a few Online MP sessions. This doesn't help make you feel like a unique snowflake, and we are all unique snowflakes. To address this, we're adding some new ways players who wish to show off their style can acquire new gear. The Awesome Level MAX DLC will be bringing in some new player customization pieces, including body kits, rims, helmets and outfits for both the male and female riders but we didn't think this was enough. In addition to the gear being included in DLC we will also be introducing a new virtual shop where players can get even more new gear for their bike & rider and we will continue to add new items to this shop in the months following its release.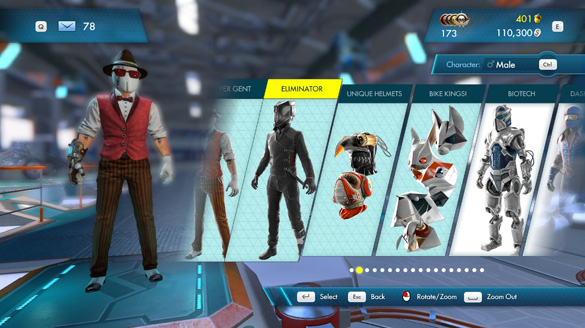 There will be a few ways players can gain currency for this new shop. Players have stated that they want a better reason to delve into Trials Fusion's Tournaments so we will be creating special tournaments that will allow players to earn virtual currency. This virtual currency can be purchased as well. Also be sure to keep an eye on Trials community channels for giveaways and other opportunities to gain new gear. We'll have more news about player customization a little later, but we wanted everyone to know that more options are coming.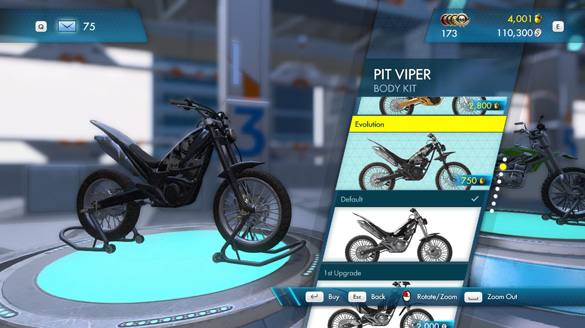 How would you feel if you knew that there were a ton of UGC tracks that were in Online MP, but you couldn't play them because they used editor objects from DLCs you don't own? Hey, we know that not everyone can pick up all of the DLC that they would like so we've got your back. The next Trials Fusion update will be adding a compatibility pack to Trials Fusion's online multiplayer. This package will allow people who own Trials Fusion Standard Edition the ability to play any tracks online, without the need to purchase additional DLC. The compatibility pack doesn't work with Track Central, the editor or in-game tracks, so if you see tracks pop up in MP that you may want to try to own the leaderboards on, picking up the Season Pass might be a good option.

PS: Private matches count as Online MP.

Finally, it's not all features in this update. Included in the 10th update to Trials Fusion will also be 5 all new X-Supercross tracks to compete with your friends in online multiplayer

That's what we have for the Dev Update this time, but make sure to keep your eyes on this space, we'll have more information coming out a little closer to launch.
Details

Written by

ShiftySamurai
Hello ladies and gentlemen! It's not often that we get a chance to do a Developer Profile, but we happened across a video earlier this week that we thought was made by a community member, and it turns out that it was made by one of our very own developers.
Seriously though, I had three people email me the video and demand that I post it instantly, but I did the digging and found the creator, so… maybe now I get the last laugh. Heh.
Riku Lummi has been hard at work creating… stuff… at RedLynx, but he was awesome enough to set aside a few minutes to answer my questions. I really appreciate it, and I hope you awesome readers do as well. (I guess we'll thank Jorma for letting him have a few minutes free as well. Thank you, Jorma!)
Anyhow, here is the video that set off the journey that led through the lands of the internets and circled all the way back to the office.
It's ok, you can watch it again. When you are done, go ahead and continue reading for the interview.
How long have you been at RedLynx?
I just celebrated my 2 year anniversary at RedLynx by playing the song on piano. So yeah, 2 years.
What is your job at RedLynx?
Running around and being crazy, and sometimes doing UI programming.
What is your favorite part about working at RedLynx?
Being surrounded by great and beautiful people, and bringing joy to the fans that play our awesome games! …. Oh yeah! And Friday pulla*!
What is your leaderboard position in Trials Fusion?
In my leaderboard – I'm the first! Of course! Just kidding. I guess… somewhere on the …yeah, I have no idea.
When did you start playing piano?
Since I was a little gurl (French accent)! I started playing piano at 7 years old, but because I stopped for 15 years, we could say that I play piano for 6 years now.
Why did you decide to create a piano cover of Welcome to the Future?
It's funny, but it all started as a joke and then I'd been challenged to make the cover. To be honest, I always wanted to play it… but the challenge did not stop there… so I had to post it on Youtube and I am really glad I did it and that people like it. So, I have to give some credit also to my friend Diana who challenged me.
Did you know that people were already demanding a longer version of your video less than 2 hours after you uploaded the original?
Wow… I had no idea about this… Another challenge? Ok then… challenge accepted.
Are you going to listen to the cries and pleas from your fans and upload a longer version (hopefully with Antti & his Duck Choir on vocals)?
No need for cries and pleas… I would love to do it! Especially with Antti and his choir, so that people won't be worried.
Have you yet wrestled Antti Ilvessuo on the yellow mat of doom?
Not yet! But I have asked Antti to wrestle me. Maybe he is afraid, I did study judo for 4 years… haaaa yaaaa
Is there anything you would like to tell your thousands of adoring fans?
Thousands? Well, I am really happy I could bring some joy with the cover I made, and I will make a longer version if it makes you happy. Stay in school, be awesome and have fun! Regret nohing!
Thank you for taking the time to answer my questions, Riku!
Thank you for this opportunity and thanks for your patience.
Can we all show Riku a little love over on the fourms? That's all the time we have for this Developer Profile, but you never know when we might ambush another RedLynx Dev with a game of Urgent 20 Questions.
-Shifty
*a meeting/party of good times and friendship.
Details

Written by

ShiftySamurai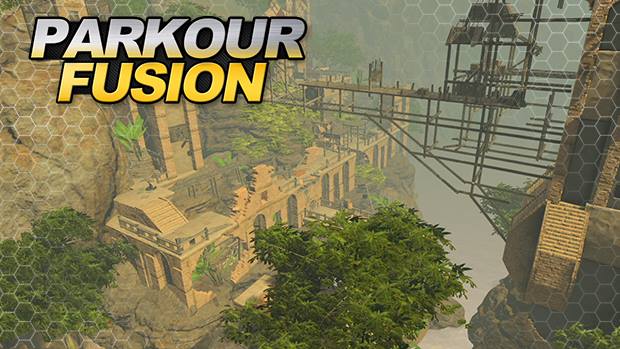 We've seen voxel-styled world building games. We've seen color puzzle cubes. We've seen FPS target ranges. There are some people out there who like to challenge the Trials Editor by making things so advanced that it leaves me scratching my head.

This is another one of those situations.

In a mind-blowing show of editor prowess the LORDS of FtRING just went out and released a first person parkour skill game on Xbox One. I've been doing a little bit of digging, and it shouldn't be all too surprising that one of the builders is none other than DragonMICKY from the inaugural Trials Fusion Track Jam pool of Finalists. Finalist might not be the accurate word as this French Trials Community member took the title of Track Jam Champion home with him.

To make a long story a bit shorter; DragonMICKY has proven his wicked editor chops.



Bubbakhar Tower features some amazing use of editor logic and decoration, as well as 3D platforming gameplay. That's not something we often need to talk about with Trials Fusion custom tracks. DragonMICKY has bent the editor to his will in creating a transversal system that allows for regular "walking" movement, but also includes running, crouching, sliding, jumping and 180 quick turns.

I fired off an email to DragonMICKY, and I appreciate his response after seeing how busy he is.

Did you create it alone, or did the other builders on the LORDS of FtRING team help out?
I was alone, but it won't be the case in the future. There is just some crafted objects that I took here and there from other tracks.

This is crazy good, how long did you work on this?
The only people who helped me to build that was the RedLynx staff by adding the FPS example in Trials Evolution. So I'm working on a FP prog since a long time. I've made a track on Evolution called "wanna get high?" that is nearly the same of "Bubbakhar Tower" and went unnoticed. I start again from zero on Fusion and I tried to fix the most of the issues I have. How much time? I don't know. We can speak about hundreds hours spread along the 2 last years.

What inspired you to create this type of level?
This level is based on Mirror's Edge gameplay and Assassin's Creed map design. I know you like music, The Cell from C2C is the song I listen the most building this level.

Was it a challenge creating the parkour system you use in the skill game?
Yes, it was a challenge cause when I discovered the FPS example in Evolution I told myself "I can create a real game!!!". It's harder and longer than I expected but I still think that it is possible. I tried Unity and 3D modelling and other softs like that. I always came back on Trials Editor because it was the better compromise between the time spent on it, my knowledge of the editor, the quality of the finished game and the ability to make people play my creations on a console.




You mentioned in the Ubisoft forum thread that you were working on adding features to a new version, when do you think I should expect that to come out?
I've got to stop for a moment cause I'm getting married and then I'm lucky to go 15 days in Bali, Indonesia. I come back early July and then I will try to go farther as I said on the forum. If you want to know more precisely, I can tell you that there will be slide on slopes, horizontal climbing and it will not be a real wall-running but a kind of double jump on specific walls.

To build levels I will try to federate who wants to come from the people who got access of the LORDS of FtRING account: Attila, THDTE, CSCSCS2, Macorenzy, kalimoro, kronenb, katin and tekiplow. I'm recently in contact with Nova Dark Storm, he's by far the first on leaderboard. He seems very interested by testing and working on running lines...

Anyway, the fun part is now. Gameplay is ready and just need some fixes and improvements. Everything is possible: Shooting, parkour, puzzle, horror, disaster situation, etc... I think we will create some levels to make my features comfortable with the prog and the new habits of level design. And then, if we are all agreeing, I think about a series of "tracks" to create a kind of season.




I would like to again thank DragonMICKY for taking the time to respond to my inquiries.
Details

Written by

Cannibal Shogun
Redlynx creative director ANBA is on a quest to test the challenges of the Trials video game series in the real world. We've already seen him set JJ on fire, bungie jump playing Trials Frontier and even jump a bike while on fire. This time to mark the addition of online multiplayer to Trials Fusion ANBA takes it to the next level challenging real world Trials Champion Tommi Ahvala to a little friendly competition. Can ANBA come out victorius against a true Trials rider? Find out below: